Upcoming Events
Our Lady of Guadalupe
Traveling Torch
November 30 - December 6
Please see the schedule below.
Join us for this special week of prayer!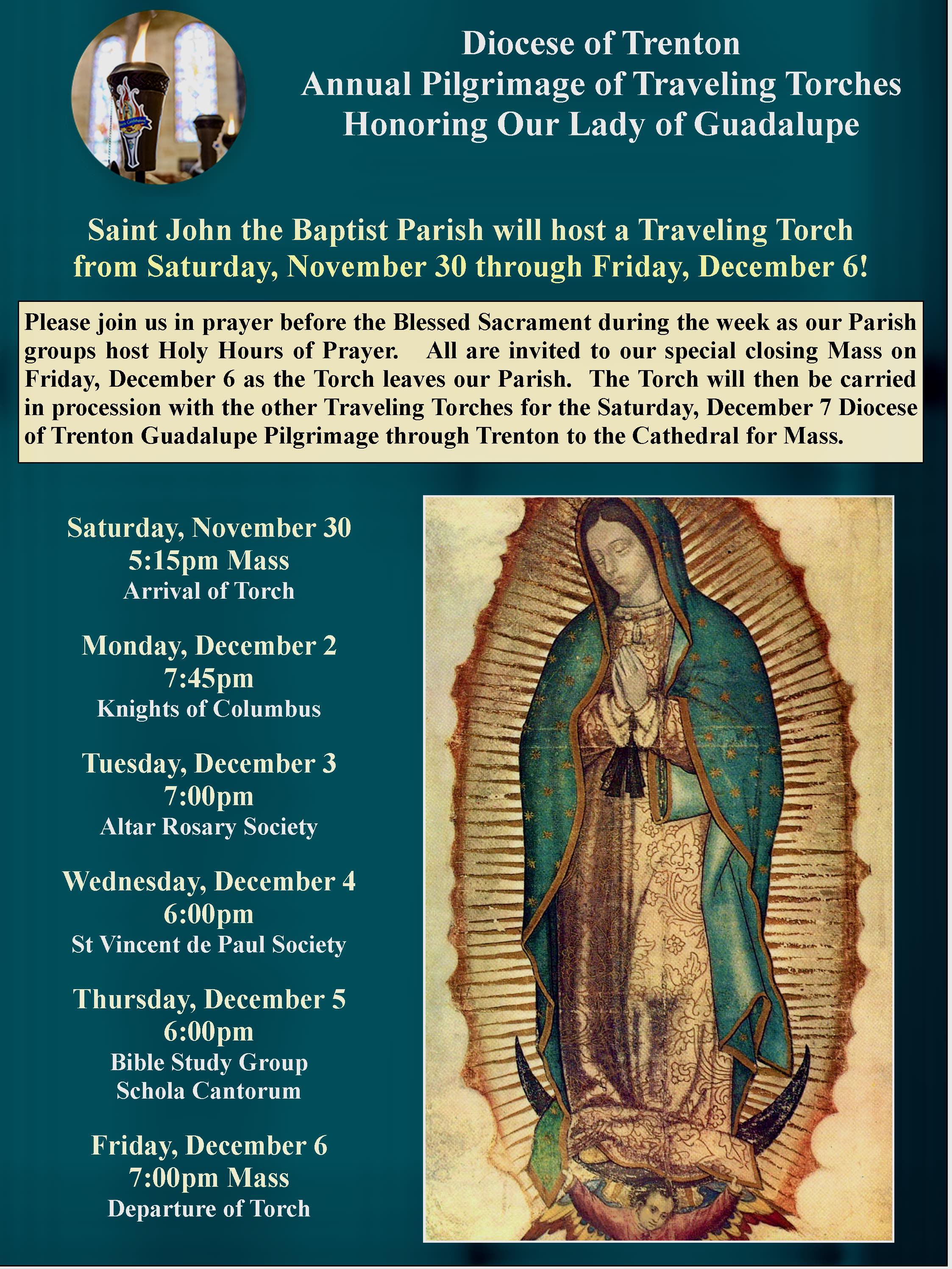 ---
JUST ANNOUNCED!
LESSONS AND CAROLS
CHRISTMAS CONCERT
Saturday, December 7
7:00pm in the Church
From the Pastor
My Dear Parishioners,
This week we begin both a new liturgical year and also a new liturgical season. We now will be hearing from the cycle A readings in which is largely comprised of the Gospel of Saint Matthew. During Advent, our focus moves towards the hope we have in the second coming of Jesus. That is why we look to the liturgical east and journey towards Christmas with our minds focused on the hopeful expectation; all facing the same direction anticipating the second coming of our Lord Jesus Christ.
Also, this week we are truly blessed to be able to have the torch in honor of Our Lady of Guadalupe. This torch has been at several other parishes in order to increase the devotion to our Patroness of America and the Pro-life movement. St John's Parish has been entrusted as one of the last parishes to celebrate this great devotion to our Blessed Mother of Guadalupe. At the end of this week, we will have a special Ordinary Form Mass on Friday at 7:00pm in honor of Our Lady as we conclude our devotion by sending the torch to our Mother Church, the Ca- thedral of Saint Mary in Trenton. After a procession through the streets of Trenton, Bishop O'Connell will celebrate a special Mass in honor of Our Lady of Guadalupe on Saturday, December 7.
I pray that we all have a very blessed Advent and truly prepare ourselves for the celebration of the Incarnation of Jesus Christ. May we pray with our Blessed Mother that our hearts may prepare the way for the coming of our Lord.
News
Click on the icon above to go to our Facebook page with the latest photos and videos of our events.
---
Knights of Columbus present
KEEP CHRIST IN CHRISTMAS
POSTER CONTEST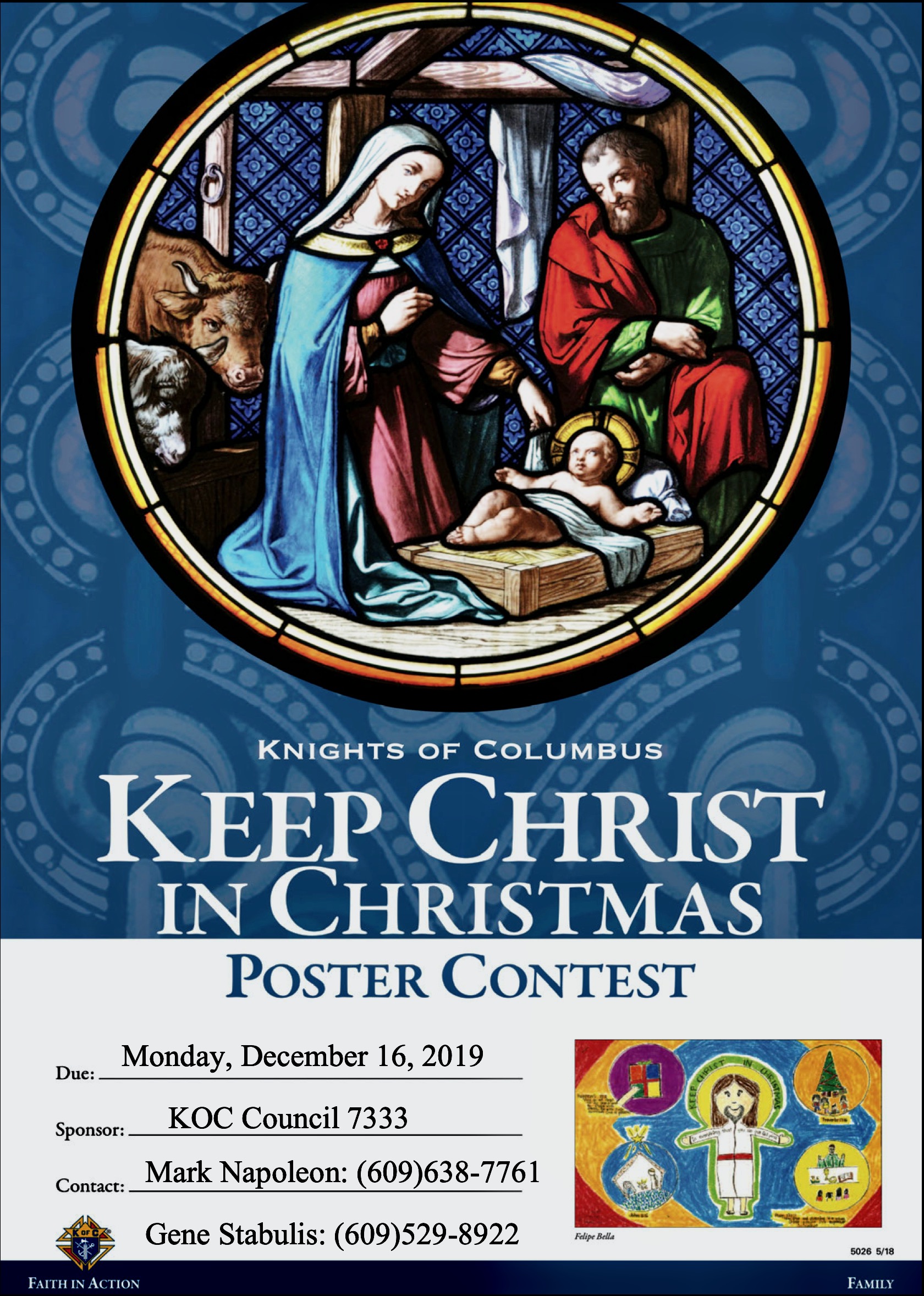 All children ages 5-14 are invited to participate in the Keep Christ in Christmas Poster Contest. Information and entry forms were distributed to our CCD and SOWers Homeschool students.
The Contest Entry Form is available for download HERE. All Entries are due by December 16 and should be brought to the Parish Office during regular business hours.
---
All the parishes of the Diocese of Trenton are participating in CALLED BY NAME, a program of vocations awareness. This program offers an opportunity for us to pray for vocations; to recognize gifts and potential for leadership and service in members of our parish; and finally, to call forth and encourage these members to share their gifts in the priesthood. Perhaps you know a man (high school age or older) who would, in your opinion, have the qualities to become a priest. Please recommend this person by filling out the response card found in the vestibules and placing the card in the collection basket.
---
Click for Online Giving!

Parish Store
OUR OWN
PARISH COOKBOOK!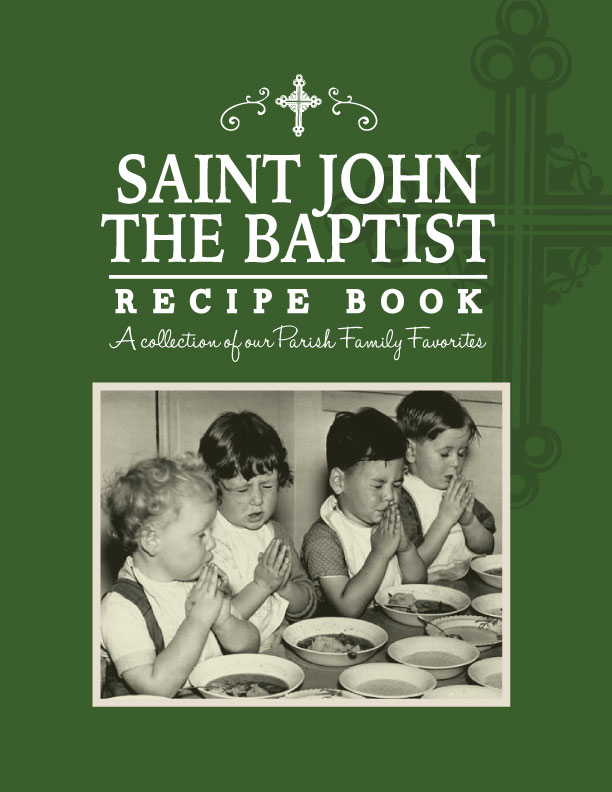 click HERE
to go to Store Page