Upcoming Events
THE ASCENSION OF OUR LORD

Holy Day of Obligation

Vigil Mass
Wednesday, May 24 at 7pm
Holy Day Thursday, May 25
7am Mass
7pm Extraordinary Form Mass
From the Pastor
My Dear Parish Family,
Click on the above image of our cross for a beautiful Diocese of Trenton photogallery from our Good Friday Service here at Saint John the Baptist Church with Bishop David M. O'Connnell, C.M.
You can also view Our New Life in Christ, a special photoshow of all Holy Week and Easter Events from the Diocese of Trenton (including the Tenebrae Service directed by Peter Carter) HERE
Please continue pray for me as I promise to pray for you.
Saint John the Baptist, pray for us!
Rev. Brian P. Woodrow, Pastor
News
Click on the icon above to go to our Facebook page with the latest photos and videos of our events.
---
The Altar Rosary Society will recite the Holy Rosary for the month of May in honor of our Blessed Mother starting this weekend. The Rosary will be recited prior to the Saturday 5:15pm Mass and after the Sunday 9:00am and 11:00am Masses. We invite all to join us in praying this beautiful devotion.
---
2017-2018 CCD Registration Forms are available HERE. Please complete and return to the Office.
Parish Store
CLICK HERE
to view these items
and more!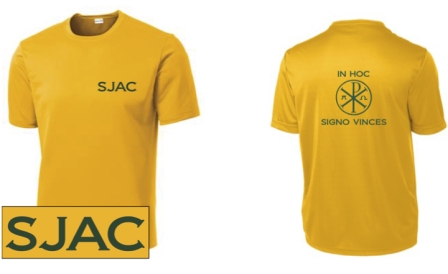 SAINT JOHN ATHLETIC CLUB MERCHANDISE
click HERE
to go to Store Page