Upcoming Events
2017 Diocese of Trenton
Pilgrimage to the Basilica
of Immaculate Conception
in Washington, DC
SATURDAY, NOVEMBER 4


We are sending 2 buses!
OUR BUSES ARE FILLED!
Please call office to be placed on waiting list.
From the Pastor
My Dear Parish Family,
It is with great joy that our Parish will offer the 40 Hours Devotion on October 20-22, 2017! This devotion a very special and powerful opportunity to participate in Eucharistic Adoration of Our Lord in the Blessed Sacrament. Our Church will be open and Our Lord will be publicly exposed in the monstrance on the high Altar from 9:00pm on Friday October 20 through 5:00pm on Sunday October 22, except for those times when Mass or another sacrament is celebrated.
Historically, the 40 Hours Devotion has been a special period of continuous prayer in the presence of the Blessed Sacrament in solemn exposition. The focus of this devotion is Jesus, truly present in the Holy Eucharist.
As Catholics, we believe that the Holy Eucharist is the "source and summit of the Christian life" as it is truly the Body, Blood, Soul and Divinity of Our Lord. Without taking away from the fact that the Mass is the central act of worship, Eucharistic Adoration invites us to experience the Real Presence of Jesus in a very unique way.
I invite everyone to participate in our first 40 Hours Devotion. What a wonderful way to spend time with Our Lord, who gave His very life for us.
Rev. Brian P. Woodrow, Pastor
For more information
on our Forty Hours Devotion
please go HERE.
News
Click on the icon above to go to our Facebook page with the latest photos and videos of our events.
---
Tickets for our ANNUAL PASTA DINNER AND SILENT AUCTION are on sale! Please join us on Saturday, November 11 from 6pm to 10pm. This annual event sells out quickly! Tickets are available online here in our Parish Store and in the Parish Office.
---
The Knights of Columbus invites all men to their Open House on Monday, October 23 at 7:30pm in the Knights Hall (Parish Office).
---
Parish Store
CLICK HERE
to view all Parish Store items


2017 PASTA DINNER TICKETS
NOW ON SALE!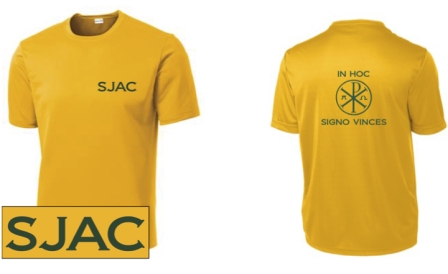 SAINT JOHN ATHLETIC CLUB MERCHANDISE
click HERE
to go to Store Page